Eco Friendly Ice Cream Van in the UK. We understand how important it is now for event and companies hiring us to make sure we are as eco friendly as possible. This is why we are striving always to keep improving where possible.
One of the main ways we are achieving this is by making sure we have the ability to run via electric. All of vehicles are equipped with a motor drive that can run via a 32 amp socket* meaning that we are creating ZERO carbon emission from the engine. Yes absolutely ZERO. This also means and allows us to park in places we have never been able to before. Zero emissions mean we can now attend events indoors!
From making sure our fleet of vehicles are as new as possible this ensure the engines are the latest and cleanest being used in the country. All of our fleet of Mercedes Benz sprinters are using the very best in keeping emission to a minimum. The Euro 6 engine is a recognised engine for being the best and least polluting engine currently on offer. The UK government acknowledge this and with technology moving forward as quickly as it does these days the all electric ice cream van will soon be on our roads.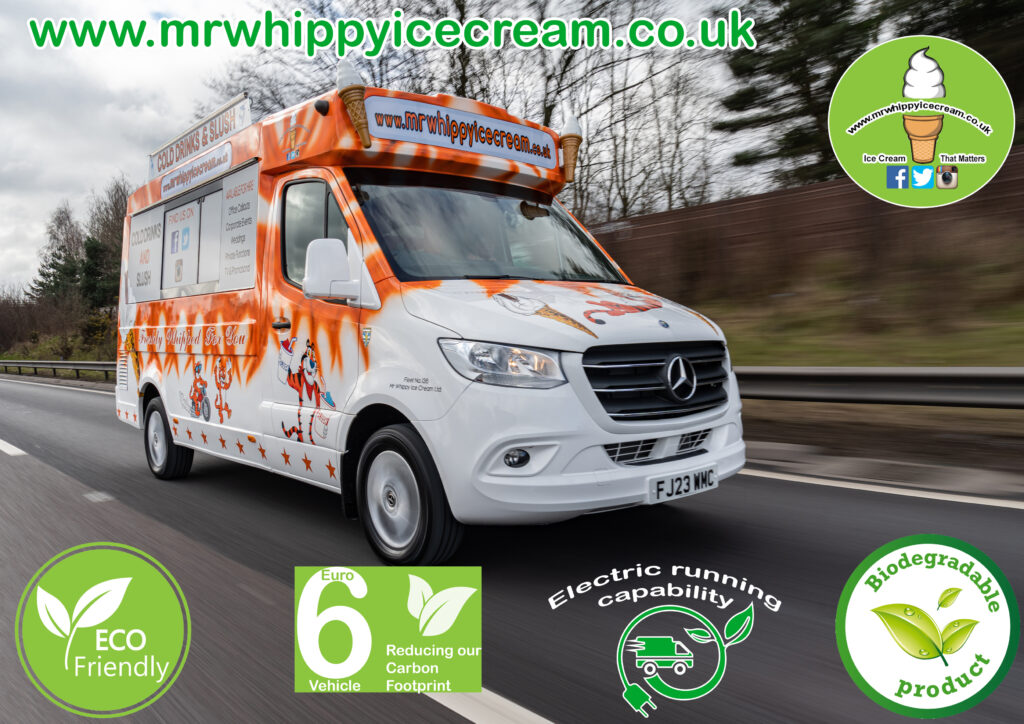 Eco Friendly Ice Cream Van
Along side making sure the fleet is no more than 4 years old. We use a mixture of other things to also allow us to reduce our carbon footprint. Which in turn means reducing yours when you hire us. From making sure we try and start integrating into the world of not using single use plastics. To making sure where possible we recycle all waste that is recyclable these are just other steps we are taking to try and get to that perfect 0% carbon footprint number.
Wooden spoons, paper straws and using bio degradable tubs are just a small step forward for us. Also cherry picking items we sell making sure the bottle if are plastic are recyclable.
We here at Mr Whippy Ice Cream Ltd are pushing the boundries and are always inovating. To discuss booking a Eco Friendly Ice Cream Van head to our Get A Quote page.