Ice Cream Van Hire – Fleet Update. As with any year once March 1st hits and the new registrations come out. It only means one thing, it's new ice cream van time.
This year was no different, we went and picked the latest addition to our fleet. On a brand new 2023 Mercedes Benz chassis, converted by Whitby Morrison in Crewe. This is just another beautiful example of what we strive to provide our customers.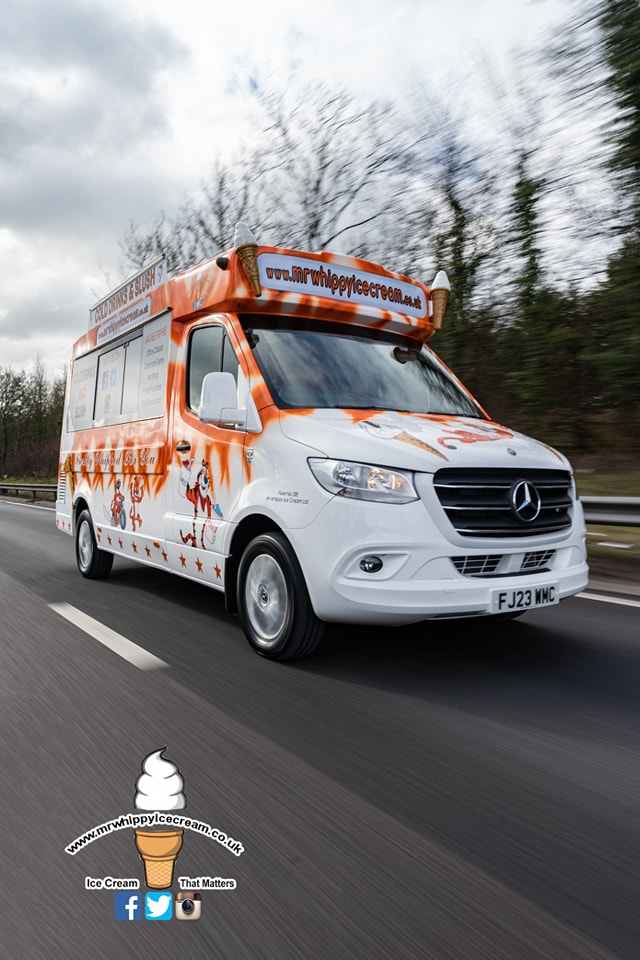 Ice Cream Van Hire – Fleet Update
Our vehicles are designed in a way to maximise efficiency. To keep queuing times to a minimum for customers to be pleasing to look at to the eye. A lot of time and effort we put into designing and making sure these vehicles are produced to the highest standards.
With the engines being euro 6 low emission engines we are keeping pollution to a minimum. If that isn't good enough for you then we have had installed in all our vehicles the capability to run via electric*.
This offers us the ability to turn the engine off completely meaning absolutely Zero emissions!
Our striking company livery combined with unique art work our vehicles clearly stand out in the crowd.
Whether it's night or day customers will be able to sport us from a mile off.

If your interested in hiring us for your event no matter the size, we are able to provide you with our 5***** Star service!

Head to our quote page to start the simple and easy process in hiring one of our vehicles.
We make sure we offer products for all allergies. Vegetarian, Halal, Dairy, Gluten Free plus more… No one will miss out on enjoying a tasty treat. The staff are trained to the highest standards in what each item contains. We also have a check sheet where customers can ask to see to make sure before purchasing. Our vehicles are 5 **** Star Food Hygiene rated by our local council, so you can be assured you are being served food from a safe area.