Mr Whippy Menus 2022 Update. Year after year we are always trying to add new items and offer the very best to our customers. This is why apart from the odd very popular item, you will very rarely see the same thing on our menu boards.

As mentioned the classic Single Cone with a 99 Flake will never go anywhere, however, new toppings such as our Crunchie this year seen in the photo below is a great one for those chocolate lovers.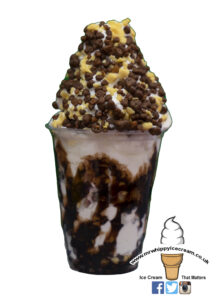 Mr Whippy Menus 2022
Alongside the crunchie glory, we have also added many new items for you all to enjoy. Hopefully the British weather this year is kind to us all. Allowing us all to go out and enjoy your local park or event near you.
From Music festivals to Weddings we can offer our services to you. Our 1st class Ice Cream Van Hire is simple easy and a great way to add that traditional aspect to your event.

Simply head to our quote page and follow the steps there.

For more information on any other questions, please have a good look and read around our website or contact us via our social media outlets.